Welkom Bienvenue Welcome Wilkommen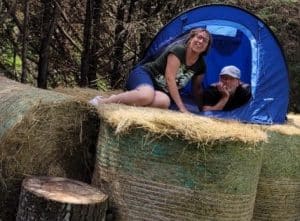 Are you looking for a place from which to hike, bike, sail, canoe, fish, swim, play, discover, seek tranquility, visit markets and beautiful French medieval towns?
A campsite that exudes peace and relaxation in a beautiful natural setting?
Then look no further… Camping Le Soustran welcomes you.
In spring 2018 we fell in love with this place and since autumn 2019 we can proudly call ourselves owners.
And we're happy to share it with you.
Relax and enjoy your holiday in central/southern France in beautiful Correze, just a few minutes walk from Lake Triouzoune.
We love to welcome you.
Bas and Monique
Contact Form
If you have a question or comment, please fill out the form below. If necessary, we will contact you as soon as possible. Calls, WhatsApp, SMS are also allowed. Our phone number is at the bottom of the page.
Fields with a * must be filled out.